Hi Friends
Happy New Year! How were your holidays?
It's time for a new challenge at Lawnscaping. We're kicking off 2014 with a party/birthday themed challenge.
I decided to do a belated birthday card because I sometimes I miss birthdays…. then need a belated card.
This challenge is sponsored by Simon Says Stamp.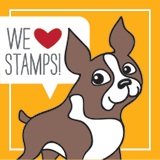 Hugs and blessings
Nette